STEEL YOURSELF – Issue 01
Ferrous feature
We will be peering into the dark recesses our colleagues' souls in this section. This month we dissect Erin Beadon. Erin joined us this year and has served four months of [what we hope] will be a life sentence.
She has been demonstrating the fine art of bean counting under the designation of junior accountant at head office. She is on record stating an appreciation for the diversity and challenges the position offers but would prefer if the chook processing plant down the road would be less "on the nose".
Before her incarceration she dabbled with auditing, we commend her choice of leaving that soulless pit behind to join us in the human race. Meeting Erin in the hallowed corridors of power she will enjoy your views on tennis, travelling and new experiences in your life, however, do not expect her to express an opinion on people, politics or the weather as that will leave you wanting. The editor is convinced that her favourite tennis player is John Mcenroe for undisclosed reasons.
The newsletter staff ponders endlessly about her menagerie of three dogs, four cats, a chicken (live) and a canary. We have no idea where she finds the time to play tennis with that many pets while also donating time to her local SPCA.
Working with Erin is a delight. Do not mistake her reserved poise for sullenness, she is as friendly and genial as a beauty contestant. If you need something from Erin you can rest assured it will get done.
Congratulations to Alta Daniel for her 15 years long service award.
Congratulations to Solly Tollo for his 5 years long service award.
RSC congratulates the new parents of our future heroes, villains, lawyers and doctors
Ann Appelgryn – Baby Boy 
George Britz – Baby Girl
Constance Moeng – Baby Girl
Our condolences go out to our colleagues who have lost loved ones. Know that in these difficult times we share your loss.
Integrity as a Marketing Tool and Assertive Communication
There is much to be said about the stereotypical marketer. Seen as the ultimate henchmen for corporate tycoons with very little regard for the effects of constant product pushing. And the consumer, well, seemingly always depicted as the gullible type.
The Customer's Need for Integrity
Customers have been bombarded with multiple forms of advertising while witnessing the exposure of various individuals for unethical behaviour within their respective environments. With this the people in the position of buyer have now become more in tune with what is being said, what is being sold and how it is sourced. Giving the buyer the perfect opportunity to become totally aware of the choices they make when purchasing items or services.
Misleading ethical behaviour leads to an untrustworthy situation for customers. It puts the customer in a position where they cannot consider a product/service due to seemingly unethical standards, which not only removes the trust from the product/service but also gives reason to not trust brands/people associated with the original product/service.
The Company's Need for Assertive Communication
Companies need to consider the message and the products/services they are advertising. No one enjoys being misled, especially when it involves parting with your hard-earned money or that of a business which you represent. Through assertive communication one is able to communicate your message in a respectful and concise manner. This gives individuals in the company to represent the company and themselves positively and clearly.
Having integrity in your marketing is the essential aspect of keeping the modern customer as a life-long client. Taking the opportunity to improve on assertive communication skills can only assist you in creating a clear and concise message while maintaining the integrity of the company.
For more information follow the links below:
DC's Wonder Woman
Don't kill if you can wound, don't wound if you can subdue, don't subdue, if you can pacify, and don't raise a hand at all, until you've extended it.
BARTEC Couplers – Reinforcing Steel connected by Couplers
Reinforcing Steel Contractors (RSC) has the distribution agreement for BARTEC Couplers in South Africa, and provides the Parallel Thread for Rebar Coupler connections.
These BARTEC Couplers are a Superior Parallel Thread Coupler system, used extensively by Major Construction Companies in the Gautrain Project, Cape Town 'Green Point' Soccer Stadium, and Medupi Power Station. Previous Projects supplied in Botswana include the I-Towers Building and Gaborone Stadium. BARTEC Couplers used recently at the Ivanplats Platreefs No 2 Shaft for M&R Cementation and CONCOR Construction, where 17Tons Y32mm Rebar was supplied Threaded for Couplers connections.
This was initially discussed with the Ivanplats Project team in March 2018 to provide Threaded Bars and Couplers Solutions that could be installed in a Shaft Base that would be 'Flush with the Top of the Concrete Base' for Bars to be connected at a later stage. The Bars and Couplers were supplied in September and October 2018, as well as some additional Threaded Rebar and Couplers in November 2018 that provided access to working areas without protruding Bars restricting movement in and around some areas being fixed. The Rebar Threading was done in the RSH MINING Factory with RSC Polokwane being the Conventional Rebar supplier to the Contractor, Concor Construction, on this Project.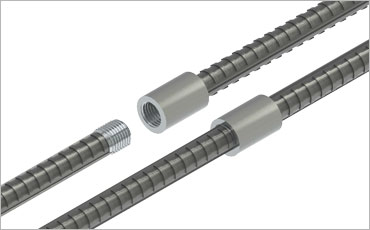 Article submitted by:
Robbie Williams